Come be a part of it!
Here at Angie's List, we are shattering preconceived notions of what can be accomplished in the tech services space. Jump on our fast-paced campus and you'll discover Listers making revolutionary changes in Web 4.0 territory. And with a huge runway for growth in front of us, we're ramping up for an awesome ride.
We are Proud to Be Listers
Strong financial results in 2015: We were profitable for the entire year and hit some key Wall Street metrics along the way!
We have almost 3.5 million paid members — and we're continually growing.
The List now has close to 2,000 employees, and we continue to recruit and retain industry-leading talent at all levels.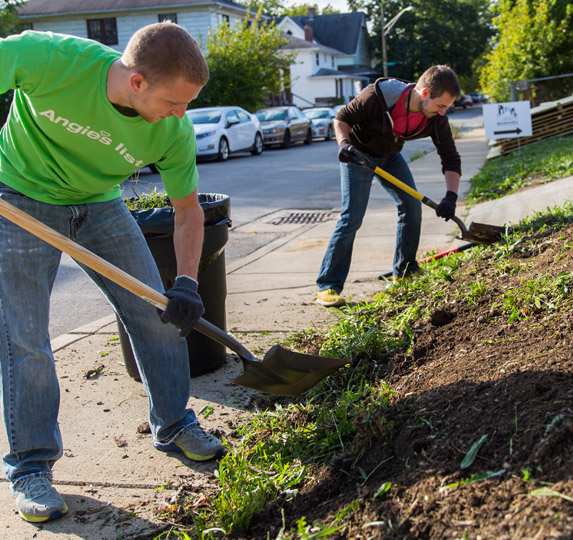 Beyond the Bottom Line
We think you'll love being here as much as we do. Listers embrace all lifestyles and create a welcoming, inclusive, diverse workplace. Sure, we work hard, but we're as friendly and open-minded as we are driven. Not only do we support each other – and have a lot of fun along the way – but we take time to give back to the community through the Angie's List Foundation (which helps area nonprofits), Habitat for Humanity, schools and community centers, and much more.
Words to "List" By
From our newest employee to Angie herself, we live by our core principles. Don't worry: there won't be a pop quiz.
Be honest and respectful
Be fun
Be frugal
Be friendly
Be healthy
Be creative
Building communities online and off: Every year, Listers roll up their sleeves and take part in a Habitat for Humanity initiative.
Let's Go to the Videotape
Why just read about Listers when you can see them in action? Check out some of the cool things we've been doing.